2021 Diversity Champion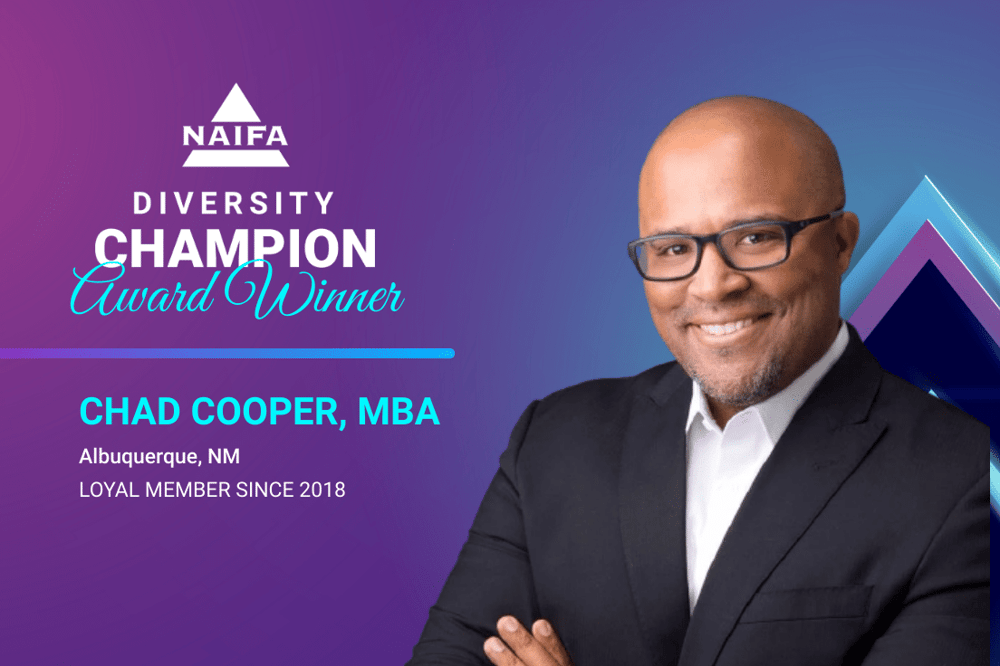 Chad Cooper, MBA, a Financial Advisor with Gateway Insurance & Financial Services in Albuquerque, NM, has been recognized as NAIFA's 2021 Diversity Champion.
Cooper, a loyal NAIFA member since 2018, began his career in financial services in Albuquerque in 2003, focusing his outreach and prospecting in the city's small African American community. He saw a need for financial literacy training and worked with his firm to develop a program of monthly seminars on the financial concerns of African Americans. Today, his clients include all segments of Albuquerque's diverse population, including members of its large Hispanic and Native American populations. He continues to offer a financial literacy program to lower-income residents through the African American Greater Albuquerque Chamber of Commerce (AAGACC) and a grant from the Kellogg Foundation.
Currently the Vice-Chair of the Board of the AAGACC, Cooper helped found the organization and served on its first Board. He has been an active member of both the Albuquerque Hispano Chamber of Commerce and the Albuquerque Native American Chamber of Commerce since he began his financial services career. Cooper is the 2022 President of NAIFA's New Mexico chapter.
Cooper's dedication to diversity, equity, and inclusion goes beyond his work with business organizations. He served as the University of New Mexico Alumni Association Board President for 2020 and led an effort to add to the national dialogue about racial justice and inclusivity through the association's "Community Connector" series of vodcasts. These featured conversations about racial justice with leaders from the university's Health Sciences, Athletics, Research, and Diversity and Inclusion departments. As Board President, Cooper also led a campaign to revive and enhance the presence of the UNM Alumni Association Black Alumni Chapter.
Cooper was invited by the New Mexico State Office of African American Affairs (OAAA) to present on financial topics at the annual OAAA Black Expo. He was a financial literacy instructor at the STEM-based summer training program for middle and high school students sponsored by Sandia National Laboratories. In 2016, he was one of the few agents selected by Prudential to present at the Essence Festival in New Orleans, where he was able to lead a dialogue about the importance of financial management in the Black community with the nationally recognized Tiffany "The Budgetnista" Aliche.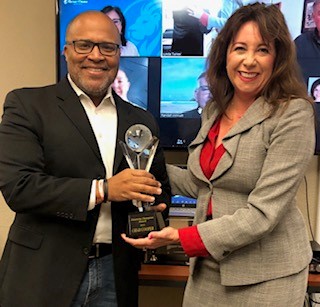 Chad Cooper receives the 2022 Diversity Champion Award from Aprilyn Chavez-Geissler. Cooper was unable to attend the National Leadership Conference to receive the award.